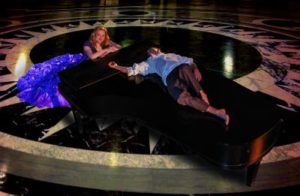 When Dr. Jay Dean takes to the podium to open the 97th season of The University of Southern Mississippi Symphony Orchestra on Thursday, Sept. 29 at 7:30 p.m. in the Mannoni Performing Arts Center Auditorium, it will kick off a musical parade that sees the venerable symphony performing music from across the spectrum of the musical genres.
The gala opening night encourages patrons to dress up and enjoy an evening on the town, at a program entitled The Power of Influence. The concert includes three of the most famous works in the symphonic repertoire, the Academic Festival Overture by Johannes Brahms, Robert Schumann's famous Piano Concerto in A minor and Johannes Brahms' spectacular Symphony No. 2 in D major.
Southern Miss piano faculty member Ellen Elder will be the featured soloist performing the Schumann concerto. Also conducting on the program will be assistant conductor, Ivan del Prado.
Brahms came under the influence of Schumann beginning in the early 1850s. His relationship with both Robert and Clara Schumann had a significant and long-lasting effect on his musical and personal life.  When one hears a concert where Schumann opens the program and Brahms brings it to a close, it is impossible not to hear and feel the powerful relationship between the two.
Dean has led the orchestra to enjoy an international reputation that enhances not only the university, but also the state and region. The symphony regularly performs to sold-out houses with audience members representing a diverse cross-section of the southeastern United States. His recruiting efforts have turned the organization into a multinational conglomerate.
Dean's vision literally has brought the world to Mississippi, including performances across the state with internationally known classical icons such as Plácido Domingo, Renée Fleming, Itzhak Perlman, and Yo-Yo Ma, to popular artists such as Doc Severinsen, The Pointer Sisters, Patti La Belle, Dionne Warwick and Sandi Patty.
Tickets are available through Southern Miss Ticket Office; 800.844.8425, 601.266.5418 or www.southernmisstickets.com. For questions, contact the Symphony Orchestra at 601.266.4001.